Incomplete
This article or section is incomplete. It may have some information, but it's still missing some important aspects. You can help Call Of Gods Wiki by expanding it.
Team Dongeon has been added to the game in october 2014. You access to this feature by clicking on the dedicated button
.
Proceedings
Edit
Players from level 100 can join team dungeon
Team dungeon opens at 07:00-09:00 and 16:00-18:00 each day
You can enter team dungeon 1 time for free each day
The maximum team size is 3
When you enter team dungeon, system will check whether your energy satisfied the requirement, if your energy is not enough, you will not be able to join team dungeon, each battle in team dungeon will deduct corresponding energy.
Only the team leadercan operate in team dungeon, if the leader disconnected, the position will transfer to other player automatically.
If you disconnected accidentally, you will be reconnected to team dungeon when you log in again,you can leave team by click the exit button.
If you quit the team without use the leave team function, your units will still fight in the battle with your teammates, and you can still receive your reward.
The drop ratio will increase according the team dungeon level you choose.
The is two available levels, lvl 100:Holly Forest and lvl 130:Purgatory
Starting screen: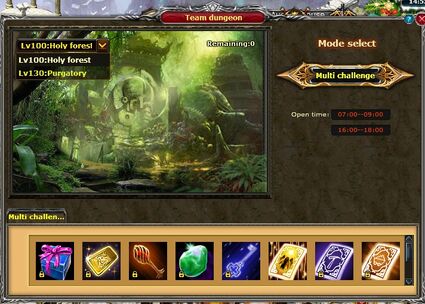 You will successively fight bosses 9 bosses:
Level 100
Edit
Ressource Card I
Ressource Card II
Enchencement Stone I
purgatory treasure card(lvl.100)
Jade bag
purgatory treasure card(lvl.100)
Edit
Ressource Card I
Ressource Card II
Ressource Card III
Troup Supply Card (unbound)
Lvel 130
Edit
Ressource Card I
Ressource Card II
Unit upgrade debrits II
Unit upgrade Stone I
Unit upgrade Stone II
Promotion Stone I
Jade bag
purgatory treasure card(lvl.130)
purgatory treasure card(lvl.130)
Edit
Ad blocker interference detected!
Wikia is a free-to-use site that makes money from advertising. We have a modified experience for viewers using ad blockers

Wikia is not accessible if you've made further modifications. Remove the custom ad blocker rule(s) and the page will load as expected.