All monsters are Lv. 33 in Nightmar
Resource boxes gives 30,000
| | | |
| --- | --- | --- |
| Name | Type | Formation |
| Lightning Lizardkin | Infantry | Left Hammerhead |
| Lightning Moth | Archer | Defensive Form |
| Scorpid Guardian | Cavalry | Ofensive Wedge |
| Thunderclap Enforcer | Spellcaster | Reinforced Flanks |
| Blueskin Harpy | Flying Unit | Blitz Attack |
Boss: Ragul Rotfin
Formation: Blitz Attack
Drop: Nature's Essence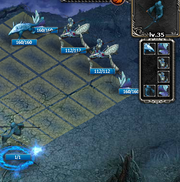 Boss:
Malachim the Merciless
Formation: Reinforced Flanks

Drop: Aquamarine, Left Hammerhead Chapter 5

Counter formation: Blitz Attack, Defensive Form.
Boss: Princess Sephine
Formation: Left Hammerhead
Ad blocker interference detected!
Wikia is a free-to-use site that makes money from advertising. We have a modified experience for viewers using ad blockers

Wikia is not accessible if you've made further modifications. Remove the custom ad blocker rule(s) and the page will load as expected.